Masala chai, the Indian way.
Learn how to make some delicious masala chai, the way we Indians do it.
4 Key things to keep in mind FOR DIY:
WATER

Clean O2 rich water is
needed to brew a perfect brew.
Remember, tea is 99% water.

TEA LEAVES

Good quality loose leaf tea
is the essence of brewing
a perfect cup. It lends the
flavour, aroma and body to
the tea.

TEMPERATURE

The temperature of water
should be ideal for blooming
the tea. If the water is too
hot it will burn the tea leaves.
If not hot enough, it will not
extract the full flavour of the tea.

BREWING TIME

The time for brewing a perfect
cup is crucial. Brew it for lesser
time or brew it for longer
than required and the
tea will not bear it's
intended flavour.
What you need :
INGREDIENTS
• 2.5 gms of loose leaf tea
• 180 ( 6 oz) of water
• 180 ml milk
TOOLS
• Saucepan
• Gas stove/ Induction
• 1 cup
Watch the full video: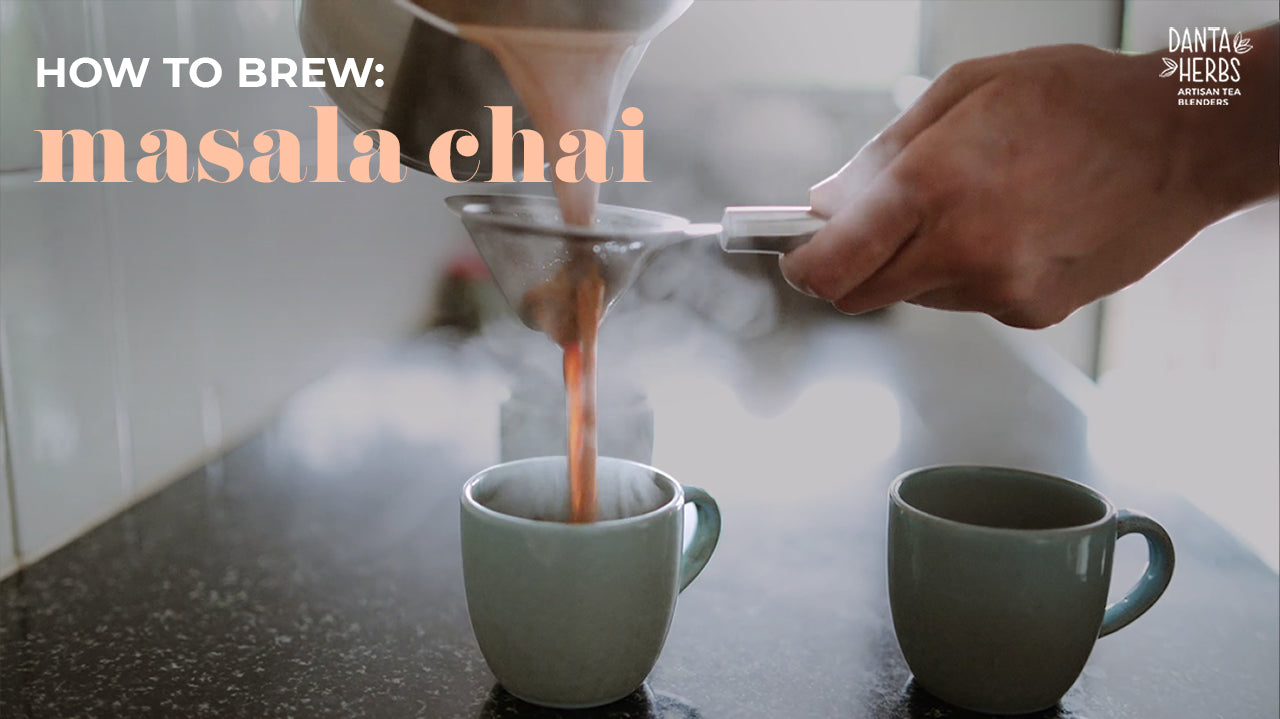 How to make :
STEP 1

Get all the required tools and ingredients.

STEP 2

Heat up the water on the saucepan to

a medium temperature.

STEP 3

Add the tea leaves into the water and let it come to a boil.

STEP 4

Add the milk and let it again come to a boil.

STEP 5

Strain the chai into a cup with a strainer.

STEP 6

Pair it with your favourite cookies, biscuits or rusk

and enjoy some delicious Indian chai!
Steeping Guide :
Oolong Tea

Temperature: 90-95 C
Quantity: 2.5 gms
Steeping Time: 4-5 mins


Herbal Tea

Temperature: 90-95 C
Quantity: 2.5 gms
Steeping Time: 4-5 mins


Wellness Tea

Temperature: 90-95 C
Quantity: 2.5 gms
Steeping Time: 4-5 mins

Do's & Dont's:
DO'S
Rinse your teapot and teacup with hot water
before brewing your tea. It's recommended to keep your brewing tools clean so that no mixing of flavours occur.

Use only loose leaf tea
for the best quality of tea and an overall health experience.

Store the tea in a cool, dry and odour free environment.
Avoid keeping the tea in very humid areas.

Store your tea in an airtight container.
Moisture can significantly impact the quality of the tea leaves. Airtight containers will increase the shelf-life of your teas.

DONT'S
Do not use taped, microwaved or pre-heated water
as the temperature will not be as per the recommendation.
Do not reheat water
as the oxygen content will decrease and flatten thetaste of the tea.

Do not use boiling water
it might burn the leaves and spoil the real flavour of the tea due to over-extraction.

Do not add leaves to heating water
instead pour water over leaves.